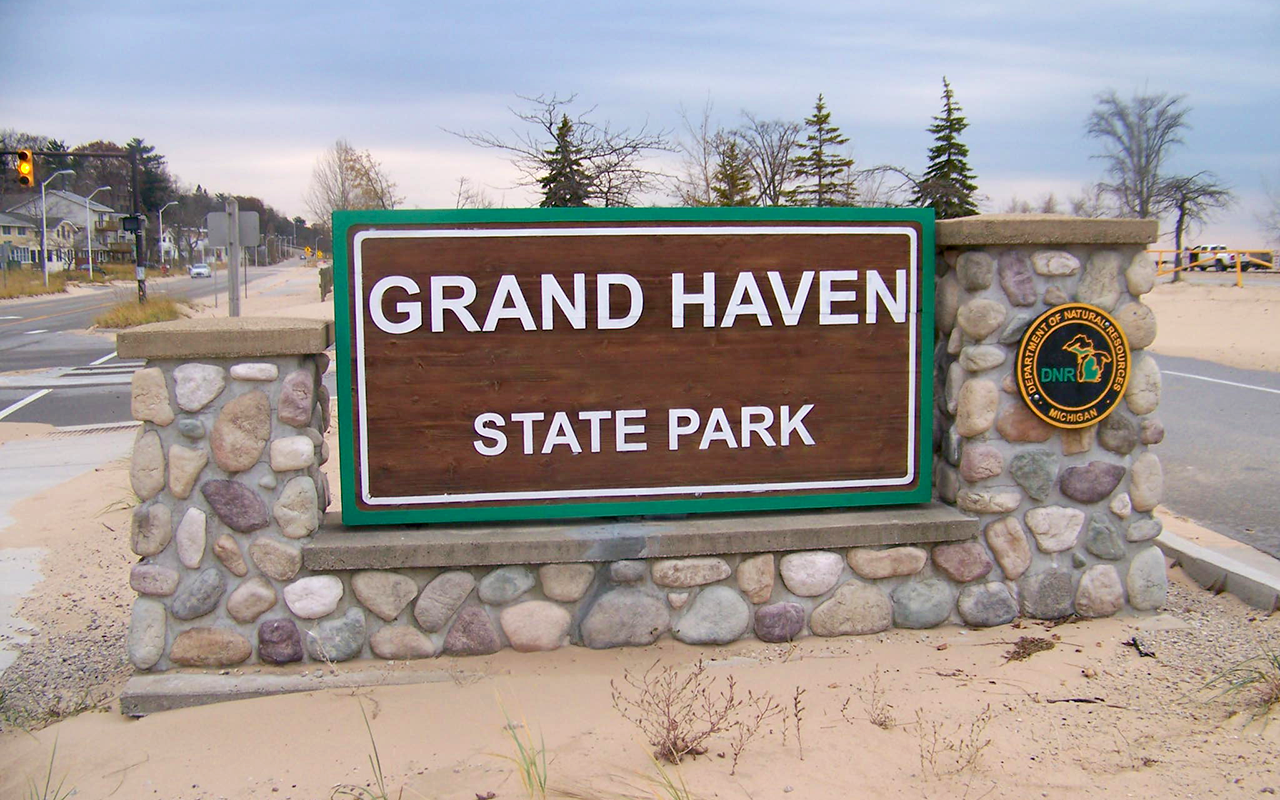 The Friends of Grand Haven State Park is a non-profit charitable organization dedicated to improving access to, infrastructure for, and programming for all users of Grand Haven State Park (GHSP). We seek to provide a platform for ideas to improve and maintain the resources of GHSP.
More Grand Haven State Park visitors able to reach the water this summer – New Action Trackchair coming to the G.H. State Park.
Details on our events page!
New Water Safety Books available:  When in Doubt, Don't Go Out!
Details on our projects page!
Meetings
We typically meet on the second Monday of each month at various locations in the Tri-Cities area.  Due to scheduling conflicts, our next meeting will be at the end of August.
Next Meeting:   Monday, January 9, 2023 at 3:30pm via Zoom.
Meeting minutes
Friend of Grand Haven State Park November 2022 minutes
Friend of Grand Haven State Park October Annual 2022 minutes
Friend of Grand Haven State Park August 2022 minutes
Friend of Grand Haven State Park July 2022 minutes
Friend of Grand Haven State Park June 2022 minutes
Friend of Grand Haven State Park May 2022 minutes
Friend of Grand Haven State Park April 2022 minutes
Friend of Grand Haven State Park March 2022 minutes
Friend of Grand Haven State Park February 2022 minutes
Friend of Grand Haven State Park January 2022 minutes
Friend of Grand Haven State Park November 2021 minutes
Friend of Grand Haven State Park October 2021 minutes
Friend of Grand Haven State Park September 2021 minutes
Friend of Grand Haven State Park July 2021 minutes
Friend of Grand Haven State Park June 2021 minutes
Friend of Grand Haven State Park May 2021 minutes
Friend of Grand Haven State Park April 2021 minutes
Friend of Grand Haven State Park March 2021 minutes
Friend of Grand Haven State Park February 2021 minutes
Friend of Grand Haven State Park January 2021 minutes
Friend of Grand Haven State Park November, 2020 minutes
Friend of Grand Haven State Park October 2020 minutes
Friend of Grand Haven State Park September 2020 minutes
Friend of Grand Haven State Park July 2020 minutes
Friend of Grand Haven State Park June 2020 minutes
Friend of Grand Haven State Park January 2020 minutes
Friend of Grand Haven State Park November 18 – 2019 minutes
Friend of Grand Haven State Park October 14 – 2019 minutes
Friend of Grand Haven State Park September 9 – 2019 minutes
Friend of Grand Haven State Park August 12 – 2019 minutes
Friend of Grand Haven State Park July 8 – 2019 minutes
Friend of Grand Haven State Park June 10 – 2019 minutes
Friend of Grand Haven State Park May 13 – 2019 minutes
Friend of Grand Haven State Park April 15 – 2019 minutes
Friend of Grand Haven State Park January 14 – 2019 minutes
Friend of Grand Haven State Park December 10, 2018 minutes
Friend of Grand Haven State Park November 12, 2018 minutes
Friend of Grand Haven State Park October 15, 2018 minutes
Friend of Grand Haven State Park September 10, 2018 minutes
Friend of Grand Haven State Park August 20- 2018 minutes
Friend of Grand Haven State Park July 9- 2018 minutes
Friend of Grand Haven State Park June 18- 2018 minutes
Friend of Grand Haven State Park May 14- 2017 minutes
Friend of Grand Haven State Park April 16- 2017 minutes
Friends of Grand Haven State Park February 2018 Minutes
Friend of Grand Haven State Park January 8 2017 minutes
Friend of Grand Haven State Park December 11 2017 minutes
Friend of Grand Haven State Park November 13, 2017 minutes
Friend of Grand Haven State Park October 9- 2017 minutes
Friend of Grand Haven State Park September 11- 2017 minutes
Friend of Grand Haven State Park August 7- 2017 minutes
Friend of Grand Haven State Park July 10- 2017 minutes
Friend of Grand Haven State Park June 12 – 2017 minutes
Friend of Grand Haven State Park May 8 – 2017 minutes
Friend of Grand Haven State Park April 10 – 2017 minutes
Friend of Grand Haven State Park February 13 – 2017 minutes
Friend of Grand Haven State Park January 4 – 2017 minutes